PYS-D Short Head Ttype Simmons Cone Crusher
---
【Max Feed】 ≤203mm 【Discharging Opening】 3-25mm 【Capacity】 24-718t/h
PYS-D Short Head Ttype Simmons Cone Crusher
PYS-D Short Head Ttype Simmons Cone Crusher
---
Advantage


The electric motor drives the big and small gears by belt pulley to make the crushing wall do cranking. When the material passes the crushing wall and rolling mortar wall(fixed wallboard), it is extruded, twisted and crushed. According to the lamination theory, the material texture is broken and ground under the forces of the many directions, and finally it is shaped into the building stones that meet the requirements.
Cone Crusher Spare Parts
Horizontal Countershaft, Eccentric bush, fixed cone, movable cone, bearing and so on. The spare parts are applied for the casting and forging technology and are made from high manganese steel, high chromium and so on.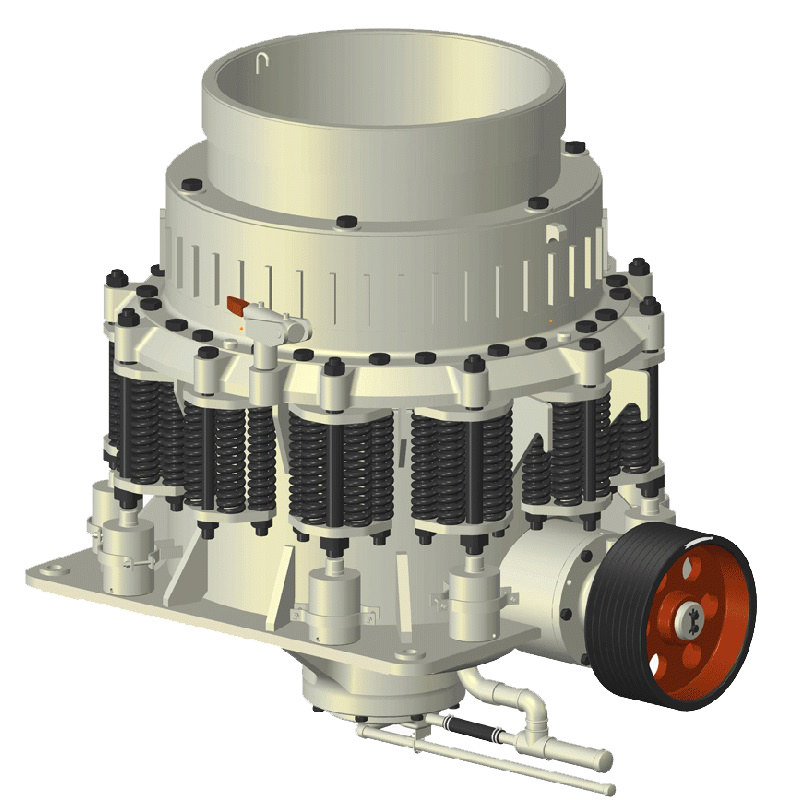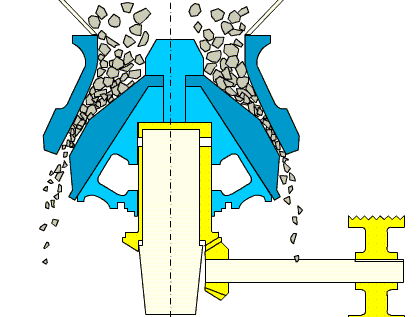 Model

Specification

Chamber Size

Feeding port size

inch (㎜)

Discharge port adjustment range

(㎜)

Power

(kw)

Equipment weight

(ton)

Capacity

(t/h)

Closed edge

Open side

PYS-D0910

PYS-D0917

PYS-D0918

3Ft

Fine

Coarse

Extra Coarse

3 5/8 (83)

6 3/8 (159)

6 1/2 (163)

4 1/8 (102)

7 (175)

7 1/8 (178)

9-22

13-38

25-38

75

14.64

40-100

55-180

105-180

PYS-D1313

PYS-D1321

PYS-D1324

PYS-D1325

4 1/4

Ft

Fine

Medium

Coarse

Extra Coarse

4 3/8 (109)

7 1/2 (188)

8 5/8 (216)

9 5/8 (238)

5 3/89(137)

8 1/4 (210)

9 5/89 (241)

10 3/8 (259)

18-31

16-38

19-51

25-51

155

25.86

100-200

118-280

155-384

212-390

PYS-D1620

PYS-D1624

PYS-D1626

PYS-D1636

5 1/2Ft

Fine

Medium

Coarse

Extra Coarse

7 1/2 (188)

8 1/2 (213)

9 5/8 (241)

13 1/4 (331)

8 3/8 (209)

9 5/8 (241)

10 3/4 (269)

14 1/2 (368)

16-38

22-51

25-64

38-64

240

50.8

162-360

232-460

270-698

388-745

PYS-D2127

PYS-D2133

PYS-D2136

PYS-D2146

7FtHD

Fine

Medium

Coarse

Extra Coarse

10 1/8 (253)

12 1/8 (303)

13 3/5 (334)

18 1/8 (425)

11 1/8 (278)

13 3/8 (334)

14 3/4 (369)

18 1/8 (460)

19-38

25-51

31-64

38-64

380

89.5

344-798

550-1098

710-1398

800-1498