China Heavy Machinery Industry Annual Meeting
---
Shandong Hysan Road&Bridge Mechanical Technology Co.Ltd., participated in the General Assembly of the China Heavy Machinery Industry Association Broken Grinding Equipment Professional Committee held in Xi'an. The meeting was co-organized by Guomao Reducer Group Co., Ltd. and Shaanxi Pucheng Qinxing Construction Machinery Co., Ltd. A total of 60 units and 78 representatives attended the meeting.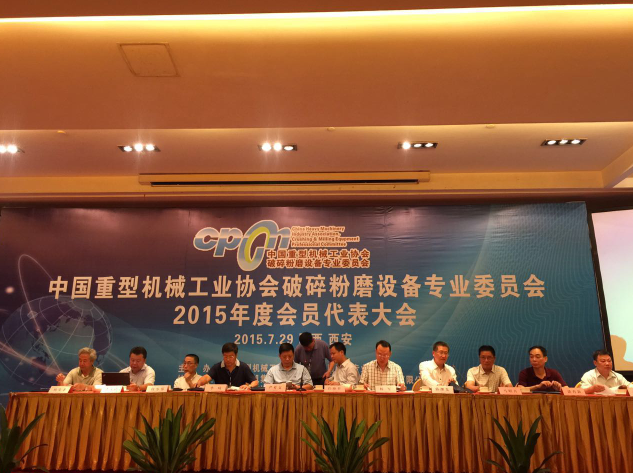 The meeting was chaired by Secretary-General Li Zhi of the Breaking and Grinding Committee and Ma Zhaoxi, the vice chairman of the special committee. Chairman Ma Zhaoxi gave a welcome speech at the meeting. The Chief of the China Heavy Machinery Industry Association Yan Xiangwen attended the meeting and gave a speech. Chang Yangjun made the "Report on the Work of the Fourth Session of the Eighth Session of the Council". He reviewed and summarized the work of the previous year, and made a deep analysis of the situation and development trend faced by the industry in 2015, and pointed out that it is in the market. Under the circumstance of distress, the diversified development of enterprises has led some engineering machinery enterprises to enter the crushing and grinding industry, which has intensified competition in the industry. This requires enterprises to enhance the competitiveness of domestic and international markets through continuous technological advancement and cost control.
Secretary-General Li Zhi made a "Financial Work Report"; Vice Chairman Fu Xiaoyu conveyed the spirit of the Fourth Session of the Sixth Congress of the China Heavy Machinery Industry Association; Vice Chairman Gong Youliang made an exchange of business experience; special guest of the meeting, Beijing Hejun Xu Haiping, deputy general manager of Consulting Co., Ltd. made a report on "Corporate Strategic Choice under the Current Macroeconomic Situation" and Han Jixian, Vice President and Secretary General of China Sandstone Association, made a report on "The Development Status and Future Development Trend of Sand and Stone Industry" Yang Faxiao, consultant of the Heavy Machinery Association Broken and Grinding Special Committee, was also invited to attend the meeting. The representative of Heishan Luqiao Technology Co., Ltd. carefully listened to the contents of the meeting and recorded the main points of the report.
At the meeting, the "advanced units of the association work and excellent supporting enterprises" were commended and a certificate of honor was issued. A list of new members was announced and a membership certificate was issued. The new member units also introduced the company's situation.